READINGS / Interview 3 - Kyoorius
"I am just an ordinary person who likes to travel and make art," says Sunga Park. She may claim to be ordinary but her art is far from it. Sunga is a self-taught artist based in Korea. Her realistic paintings, largely influenced by her travel explorations from various parts of the world, reflect a variety in culture and breathe fresh air into the landscapes she has visited..
Sunga majored in Economics, but knew from her first year that her interests lay elsewhere. Her art, mostly watercolour paintings, reveals keen observation and a sharp eye for detail. Other than watercolours, oil painting has fascinated Sunga a lot. She is slowly trying to replace her watercolours with oil paints, but since she is new to the medium it's a little challenging.

She started her journey by working with several publishing houses for children's designs and affirms strongly that well-organised colours and good use of objects can be very good for innocent imaginations. "But I also try to maintain a good balance when I draw for kids, making them consumable for adults as well – to avoid making them too childish." A few stories from her own childhood that have stayed with her because of the elaborate illustrations in them have been 'The Grimm brothers' fairytales, Aesop's fables and Korean didactic stories.

When asked who inspires her work the most, she takes us back to her wanderlust. "Seeing new places. Meeting new people, observing different kinds of architectures and diving into the contrasting art and cultures of the places I visit, inspire me. There hasn't been a bigger influence to my art, than my own experiences on the road." But if she had to name her favorite artist she said it would be Egon Schiele. His intense yet simple modern drawing style intrigues her.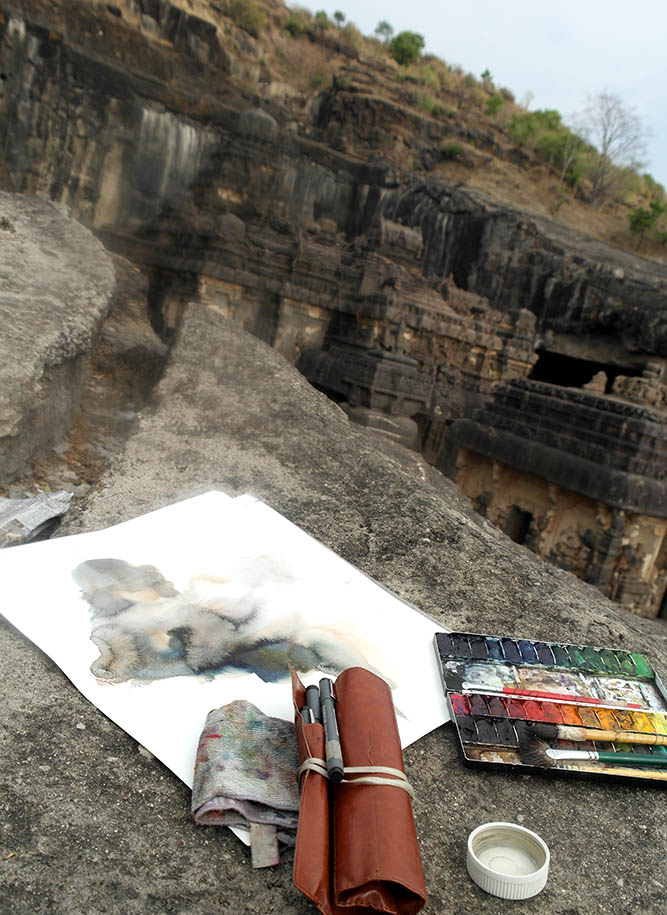 Sketches on April 2014 – The Kailasa Temple at Ellora Caves, Aurangabad
"The awful sun was too hot and there were no trees to offer me shade at all,
water on the paper was dried too fast before doing something." (Kailasa temple — at Ellora Caves, Aurangabad)
18 April, India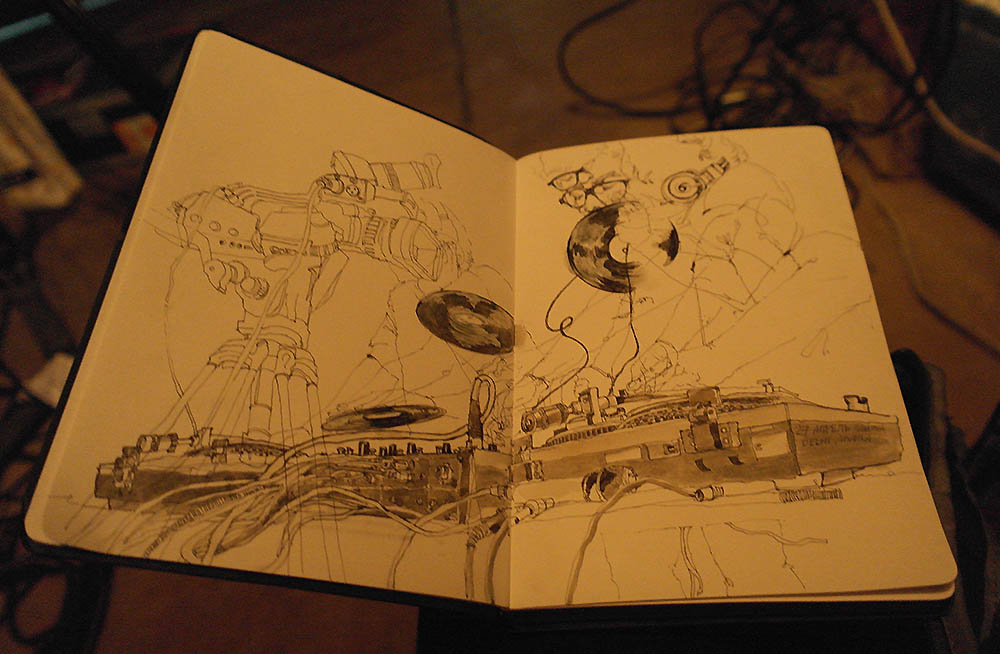 A friend's DJ console – at Hauz Khas, Delhi
Since most of Sunga's sketches are on-location drawings – her use of Photoshop and other softwares is minimalistic, almost avoidable. Temperature and humidity play a bigger role in shaping her artwork. After having travelled extensively in Europe and India, Sunga is now back in Korea working to exhibit her work from the five-month trip. She is also going to start a project for the protection of wild animals and claims happily that it already is her favorite project till date.